We are excited to announce our "L" litter as an all DDR Litter.
We have been waiting for this litter for a year.
DAM: G Wendy vom Sandokan SchH2 Kkl 2 was purchased by Lytle's K-9's from Troy of vom Sudhafen kennel of Louisiana .
Destiny is working on Wendy's SchHIII.
Wendy is linebred on some really old DDR blood. 4,5 -5,5 on
V Ingo von Rudingen SchH3 Kkl 1
.
This information below was found on Pedigree Database about Ingo:
Ingo vom Rudingen was an outstanding producer of East German Border Patrol dogs and his name can be found in the pedigrees of many present day working shepherds through his progeny Held v. Ritterberg, Jeff v. Flämings-Sand, Xanto v.d. Gundorfer Höhe, Viktor v.d. Edelquelle & Robby v. Glockeneck. Ingo vastly improved pigmentation and working abilities within the German Shepherd Breed as a whole and produced many fine working shepherds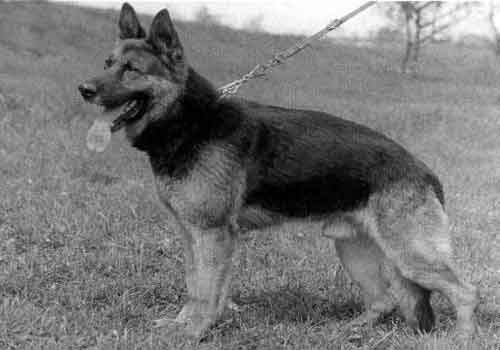 Kör: Medium-size, medium-strong male with a good head and expression. Very good top-line, harmonious and pleasing outline with good bone and muscular system. The appearance is determined by good structural proportions, firmness, pronounced pigmentation, correct stand and angulation of the limbs. While trotting he covers ground well, shows good tension and balance. His type is outstanding. Sound and balanced temperament with sufficient sharpness, hardness and courage.


V 3 - DDR-Siegerausstellung 1977
V 3 - DDR-Siegerausstellung 1978
V 4 - DDR-Siegerausstellung 1979

Wendy is also linebred 4-5 Hondo vom Haus Welsh SchH 3 (V-DDR-MS) FH3 Kkl1
,
& 4-5 Conny vom Kemmlerblick SchH1 Kkl1 all great DDR working lines. Wendy's sire is SG Alf von Osterburg Quell SchH 3 Kkl 2 and grandsire is SG Lord vom Gleisdreieck SchH 3 FH3 (V-DDR-MS) Kkl 1.
Wendy's dam is Gitti vom Sandokan (Ost) SchH 1 HD/A-Normal (a1) from the same kennel she was produced at. Sandokan has been breeding German Shepherds for 25 years in Germany. To see the website that produced Wendy click here, You will also see several pups produced from Wendy on this website.
SIRE: V Blitz vom Klödener Riß SchH3 Kkl 1 ZB V is a DDR/East German solid black imported male who came from Germany in August of this year by Troy of vom Sudhafen kennel.
Blitz is a V Brain vom der Sperlingsbucht SchH3 (SG-LGA) FH2 IP3 son (Brain's photo below)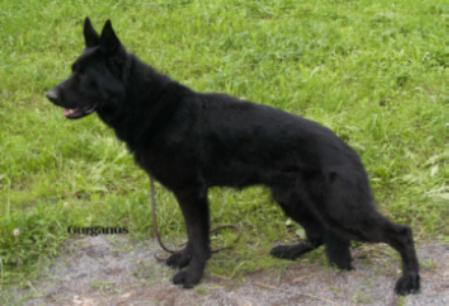 and a V Tino vom Felsenschloß SchH3 (LGA) FH2 IPO3 Kkl 1 grandson. (Tino's photo below)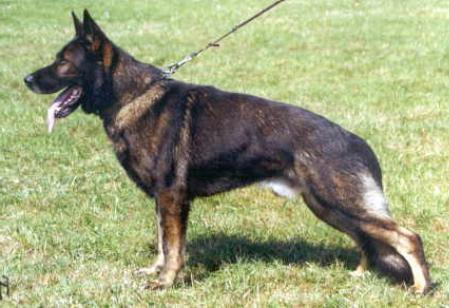 Blitz has a very nice head and great conformation. Also great working drives.. Look at that boy work.
2009 Summer at the Alaska State Fair.
Because of the strong working bloodlines in these puppies you can expect that these will have the old working character that is seldom seen in the modern sport dogs of today. They are sure to please the most demanding owner for any type of working endeavor from sport, police, personal protection or as active family companions. These puppies should excel in multiple roles and do it with class.
In addition, we expect they will have exceptional working qualities, correct working structure, great temperament and health.
We are expecting some great working and family protection dogs from this litter. Call or email about price + shipping.
A $300 USD NON-refundable deposit will hold a reservation from this very exciting litter.