German Shepherds Excellent For Schutzhund, Police, SAR, Obedience, & Family protection dogs.

Purchase Process / Guarantee / Free Puppy Program

Born February 8th, 2009!

Litter SOLD!

1 Sable & Bi/color Males : 4 Sable & 1 Bi/color Females!

See videos and photos of this great pups.

SOLD - MALE - GEORGE -PENNSYLVANIA - DPK9/SchH

SOLD - MALE - LYTLE'S K-9'S - Puppy Program

SOLD - FEMALE - FRED - MEMPHIS, TENNESSEE - Protection Dog

SOLD - FEMALE - ANITA & KENNETH - NORTH CAROLINA - Breeding/PPD

SOLD - FEMALE - MICHELLE - FAIRBANKS, AK -Agility/OBD/Family Companion

SOLD - FEMALE - JANELLE & FAMILY - ANCH, AK - Family Protection Dog

SOLD - FEMALE - VICKY - ANCH, AK - SAR

Scroll over on videos below to see the pups working at 7wk 4 day old.
Sire:

Austin Courage Pronounced

SCHI,A,AD, PPD (GSDCA TEMPERAMENT TEST) OFA GOOD Hips @ 46 Months.

Crazy Boy for his age!

On Austin's Sire's side his Grandsire is G Crok vom Erlenbusch SchHIII (SG-BSP) and Great grandsire is SG Mink vom Haus Wittfeld SchHIII (SG-BSP) FH. Read a little about Mink here. Also to see a video of him Click here. He has also produced over 300 pups. Photo of Mink below.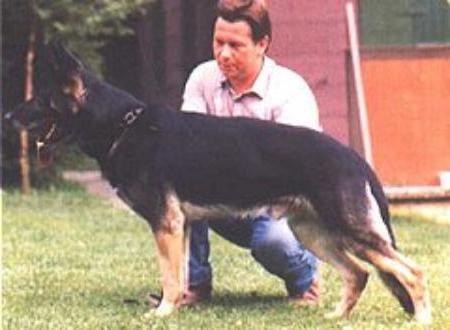 On Austin's Dam side he has SG Lord vom Gleisdreieck SchHIII (V-DDR-MS) FH3

Lord's Koer:Good medium size, strong, dry, firm, proportions and expression very good. Firm, strong ears, very good carriage. Withers still good, back line slightly drawn upward, croup and forehand good, knee angles slightly open, thigh could be longer. Correct front, good bone and firmness of pasterns. Goes straight, front reach better than rear drive, still good step length. Temperament sure, hardness, courage and fighting instinct pronounced; outs.

and also Pirol van't Enclavehof SchHIII, IPO 3, FH WUSV 1997 6th place. Photo of Pirol below.
Dam: VELMI DOBRY Inka Anrebri ZVV1 comes from the World Famous Anrebri kennels. Few German Shepherd kennels have been able to get the top working ability and keep the conformation better than Anrebri. Inka's pedigree consists of 100% working bloodlines from the Czech Republic and Slovakia.

Very Nice Female!

Inka's sire is the great producer

SG Tom z Pohraniční stráže

CZECH POLICE DOG, SP-PS, ZV1, OP1 Kkl 2 . In 1999 Tom was the Winner of The International Stud Dog Show in Bratislava, Slovakia

Breed Survey:

5CVQ1/P

Tom was a working police dog in the Czech Republic and is known for producing dogs for service work. Tom has also produced top sport dogs. In 2004 Tom produced three dogs that competed in the WUSV World Championship. That year there was only one other dog that produced more participants. Photo of Tom below.
On Inka's Dam side she has a great dog named VYBORNY Doksy Bady-Ron ZVV3, IPO3, SCHH3, SCH A, FH2, ZPS1, Champion of Slovakia, 7 times at World Championship! Very extreme producer.

Photo of Doksy below.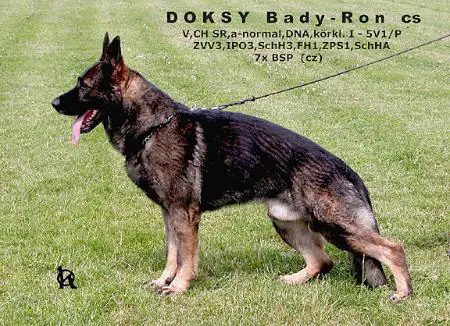 When breeding these bloodlines together we expected nothing but top working pups with extreme ball drive.. Both Austin and Inka have incredible hunt drive, they will find a ball anywhere and play all day long with out getting tired.This litter is priced at $1200 + Shipping.

WE ARE ACCEPTING NO DEPOSITS ON THIS LITTER AT THIS TIME!

A $300 USD NON-refundable deposit will hold a reservation from this very exciting litter.

All of our pups come with..
FULL AKC Registration
Current on Vaccinations.
Dewormed multiple times.
Tattoo.
Extreme socializing with kids, cats, dogs, and living in the house. Also our pups are imprinted starting at 4 weeks by tugging on the rag, clicker training in OBD & at 7 weeks potty/kennel training.
Lifetime support from two Working German Shepherd Trainers.
FREE six week puppy training classes here at Alaska Dog Boarding & Training Inc. in the Mat-Su Valley.

All puppies will be available for pick up in Palmer Alaska or they can be shipped worldwide from Anchorage International Airport. Also local pups can be deliver to their new homes.
NON-REFUNDABLE deposit of $300 USD will reserve a puppy.